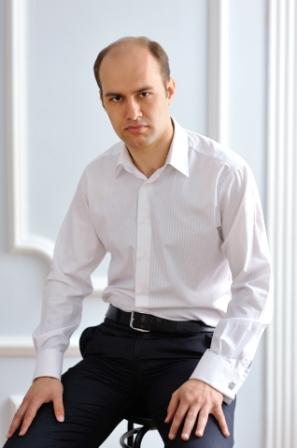 Rovshan Mamedkuliev was born in May 1986 in Baku, Azerbaijan. Couple years later, Rovshan and his family moved to Nizhny Novgorod (Russia), where at the age of 11 he started taking guitar lessons. From a very early age he showed an exceptional musical talent. In 2004 he was accepted to the very prestigious the Nizhny Novgorod Conservatoire where he studied with nationally recognized guitarist Aleksey Petropavlovsky. Throughout his study professors have described Rovshan as having "an excellent ear, tenacious memory, a developed sense of rhythm and form and bright artistry". He completed his studies with Honors in 2009 and was invited to teach at Nizhny Novgorod Conservatoire. From 2014 Rovshan Mamedkuliev is a professor of the classical guitar department in the Maimonides State Classical Academy (Moscow).
Since 1999 Rovshan has won numerous awards in national and international guitar competitions, including: First Prize on the 6th International competition of the performers on the national instruments «Cup of the North» (Cherepovets, Russia, 2006), First Prize and Special Prize for the best interpretation of the compositions of Leo Brouwer on the 10th International Guitar Competition "Hommage à Leo Brouwer" (Antony, France, 2009), First Prize, Prize of Public and Special Prize for the best interpretation of the compositions of Heitor Villa-Lobos on the 1st International Guitar Competition "Heitor Villa-Lobos" (Salamanca, Spain, 2011), First Prize on the II International Guitar Competition named after A. Frauchi (Moscow, Russia, 2011), First Prize, Prize of Public and Special prize for the best interpretation of the compositions of Francisco Tárrega on the 41th International Guitar Competition "Francisco Tárrega" (Benicasim, Spain, 2012, 2014). In 2012 Rovshan won one of the most prestigious guitar competitions in the world - XXX Guitar Foundation of America's International Concert Artist Competition (Charleston, USA, 2012).
Rovshan Mamedkuliev has performed throughout the world. His concert carrier took him to places such as Russian Concert Hall (Moscow), Moscow International House of Music, in Paris, Berlin, Vilnius, Baku, Saint-Petersburg, Yekaterinburg, Novosibirsk. In 2012, he gave a solo concert in New York's Carnegie Hall and concertized performing in numerous cities throughout Germany and Spain. In the 2013-2014 season after winning GFA's International Concert Artist Competition, Rovshan gave a Solo concert tour (51 concert) and master-classes throughout the United States, Canada, Mexico and Brazil.
As a soloist Rovshan has performed with a wide variety of ensembles and orchestras including: l'Ensemble orchestral de Valencia (Spain), Orchestre du Conservatoire National de Musique Superiur de Paris (France), Azerbaijani State Chamber Orchestra named after Kara Karaev, Nizhny Novgorod Philharmonic Symphonic Orchestra, State Symphony Orchestra of the Udmurt Republic, Nizhny Novgorod State Orchestra of Russian folk instruments. Rovshan has also premiered many new works for guitar including Concerto №3 «Antony» for guitar with the symphonic orchestra composed by Philippe Lemaigre and Concerto «Famalicao» by Elena Lebedeva for guitar with chamber orchestra.
A number of works are recorded by Rovshan on CDs. In November 2012 he recorded a solo CD on the prestigious label «Naxos» in Toronto (Canada).